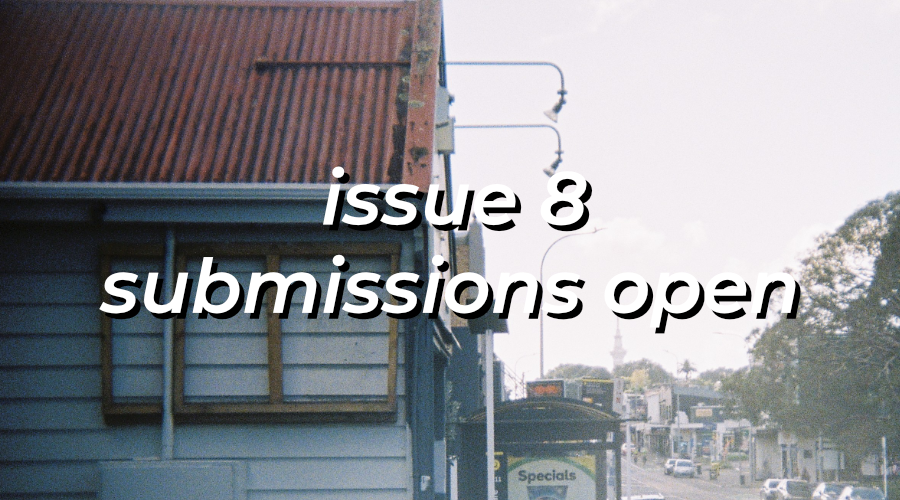 Submissions for Issue 8 close at 11:59pm on Tuesday 5th July.
Overcommunicate publishes work by queer writers and artists. It is published twice a year, in February and August. You can send in submissions any time; submissions close on 5 December for the February issue and 5 July for the August issue. Issues are not themed, and a diverse range of works are published in each issue.
The best way to get a feel for what we publish is to purchase and read the
latest issue
. If you find the price prohibitive, you can request a
free copy
.
If you have any questions about submitting, please send an email (
overcommag@gmail.com
) or a message on Instagram (
@overcommag
).
GENERAL SUBMISSION GUIDELINES
You may submit work which has been published elsewhere. Please include in your email where the piece was published.
You may submit up to three pieces.
If you are sending in multiple submissions, please send each as a separate file.
Save the files with with your name (or the name you publish under) and the title of the piece as the file name, e.g. "Jane Bloggs - Untitled.docx".
Include in the body of your email: your name (and the name you publish under, if different), pronouns, the titles of the pieces you are submitting, a bio of 30 words or less, and your social media handle if you would like it published. If you have never written a bio before, you can read our bio tips here.
Email submissions to overcommag@gmail.com with 'Submission for Issue __' in the subject line (fill in with the issue number).
Generally, only one piece per writer/artist is published per issue.
Regrettably, we are unable to pay for contributions. Each contributor receives two free copies of the issue.
WRITING GUIDELINES
Accepted writing includes poetry, short stories, creative non-fiction, personal essays, etc.
Poetry should be max. 80 lines. Most of the poetry selected is max. 40 lines, to fit on one page.
Prose should be max. 1000 words. Most of the prose selected is max. 550 words, to fit on one page.
Please send each written submission in a separate .docx file. If you don't have the ability to send .docx files, please send them as Google Docs, not PDFs.
ARTWORK GUIDELINES
Accepted artworks include illustrations, drawings, paintings, photography, comics, etc.
Please send visual submissions as .jpg/.jpeg, .png or .pdf, and ensure the quality is high enough that the artwork will not be pixelated when printed on an A5 page.
WANT TO SUBMIT SOMETHING NOT COVERED ABOVE?
Feel free to get in touch and see if what you want to submit will fit in Overcommunicate.

Issue 8 is made possible thanks to a grant from the Rainbow New Zealand Charitable Trust